Notice!
If you got error message, please press Ctrl + F5 or clear your browser cache and try again.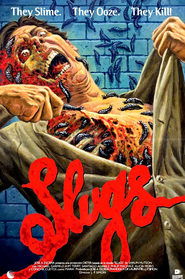 Slugs (1988)
They ooze. They slime. They kill.
Feb. 05, 1988
Spain, USA
89 Min.
R
Synopsis
People are dying mysteriously and gruesomely, and nobody has a clue what the cause is. Only health worker Mike Brady has a possible solution, but his theory of killer slugs is laughed at by the authorities. Only when the body count begins to rise and a slug expert from England begins snooping around does it begin to look like Mike had the right idea after all.
Original title
Slugs, muerte viscosa
IMDb Rating 5.0 3,144 votes
TMDb Rating 4.9 10 votes