Notice!
If you got error message, please press Ctrl + F5 or clear your browser cache and try again.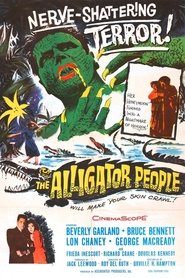 The Alligator People (1959)
Nerve-shattering terror!
Jul. 01, 1959
USA
74 Min.
APPROVED
Synopsis
A newly wed couple are sitting on a train when the husband receives an urgent telegram. When he gets off at a station to make a phone call the train pulls away without him. After years of searching his wife finally tracks him down on his family's southern estate, where she discovers that a failed medical treatment has had a horrible effect upon him.
Original title
The Alligator People
IMDb Rating 5.5 1,509 votes
TMDb Rating 5.8 votes